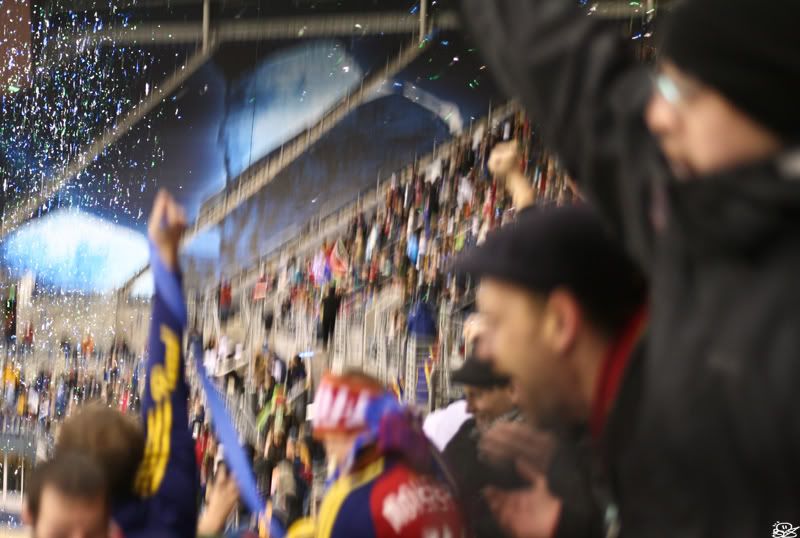 photo by
RSL BOZ
"Why do I care so much?" My buddy Scott asked this question a couple of weeks ago when a group of us were gathered together to watch the MLS Easter Conference Championship match between Real Salt Lake (RSL) and the Chicago Fire. The match went 120 minutes with no score, but it was anything from boring as both teams created multiple chances only to be denied by stellar goalkeeping from both sides. Overtime had just wrapped up, and we were headed for a penalty kick shootout to determine the winner. Scott's question was so perfect for the moment. Our nerves were shot, and now the game would be decided in a cruel pressure cooker that is a shootout. Why do we care? We don't know the players. We are adults with adult responsibilities and families. We shouldn't care this much about a game, right?
I don't know the answer but I think that it has to do something with this: There is something pure and intangible in sports. There is something truly inspiring about watching individuals accomplish together something that would be impossible alone. While we don't know the players personally, we as fans have come to know in great detail their individual strengths and weaknesses on the field. We have come to know something of their character by the way they conduct themselves and by the way they cope with set backs and adversity. There are a plethora of sports cliches, but there really is something special about seeing a player sacrifice his ego for the good of the team.
As we watched Ned Grabavoy convert the decisive penalty in Chigago to send RSL to the MLS Cup Final in Seattle, I couldn't help but think about the strength of his mentality. He had lost his starting position a couple months ago due to two successive sub par performances and had seen little playing time since. I've been there as a youth player, and I'm sure even at the professional level it is not easy to deal with. Yet when he was called on by his coach to step on the field and make the difference, he did it.
We made plans and took the long drive up to Seattle for the final. The atmosphere was electric, and the game was incredible. Once again RSL's depth and mental fortitude would be tested as All Star play-maker Javi Morales went down with an injury 15 minutes into the match and All Star midfielder Will Johnson had to be subbed off at half after being sick all night with the flu. Clint Mathis and Ned Grabavoy stepped in and made the difference in the match. They provided a calming influence on the pitch that had been lacking. They controlled possession, made timely tackles, and combined with the forwards to create several dangerous chances. They raised the level of play of the entire midfield from slightly below average before they entered the match to absolutely stellar upon their arrival.
Regulation ended in a 1-1 draw and overtime carried the same score to the end. We once again faced the daunting penalty shootout. Los Angeles was lucky to be there as RSL had pressed hard for the winner dominating play throughout the second half and overtime. I was doubtful because in my experience the team who is holding on for dear life trying to salvage the tie and force a shootout (in this case Los Angeles) usually ends up winning.
So why do I care so much? Because every player on the team has a story like Ned's. Because caring makes life exciting. Because of the moment of utter exhilaration that comes when Robbie Russell slots home the winning penalty to give your team the championship. Because it's fun to hug your friends and high five perfect strangers.